How I learned Afrikaans
I have decided to write this in English and I have already added some short advice about Afrikaans resources, so this is just a quick summary of my experience and thoughts. I am not trying to copy all the great advice that the language learning community online, just sharing some ideas I use.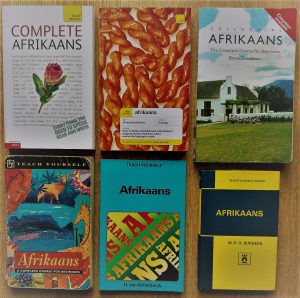 When I started learning in 1998 internet shopping was very new and the range of materials was quite limited. Linguaphone was the high end of language self-study and so was quite expensive; a copy came up on Ebay recently and sadly I missed out on it. The few cassettes I could buy were just key phrases spoken in stilted Afrikaans which to be fair were quite funny – my favourite was a rather austere and sombre voice slowly intoning "Meneer" at the start of many sentences.
I go through peaks and troughs in learning when I plateau for a while and try to get motivated again. It's only comparatively recently that good new and accessible technology has become available so for many years it was just books, a few cassettes and talking to strangers. These day italiki.com, Amikumu, social media and other sites have made it easier to learn. Of course, it does depend a bit on how much you use social media as to how much you will get out of it.
As I said, the top provider of languages courses was Linguaphone but the Afrikaans course cost about £235 so I didn't go with that, although you might find it available on the internet. (Actually someone sent me the PDFs, but I have not found the torrents for the cassettes yet.) Instead, I used Helena van Schalkwyk's Teach Yourself Afrikaans which is a good book and I learned the basics and more really quickly.
Without any audio I had to rely on the pronunciation guide which was not always straightforward without a sound file; for example, o/oo is pronounced "like oo in loot but followed by a rapidly spoken w with lips pouted". Later editions came with accompanying CDs and the grammar explanations were expanded to give more detail.
There is now plenty of good advice for learning languages available so I am not going to focus on that. The usual advice is to practise regularly, make mistakes, don't wait until you are fluent etc. I think Benny Lewis's advice that mistakes are the only way to learn a language is really useful. You can read the other polyglots' websites and actual language courses' websites for their advice. If you are really motivated, this advice on how to learn any language in record time is pretty good.
My tips for learning Afrikaans
Here are some of the things that helped me to learn Afrikaans. Just remember that Afrikaans can provoke strong and negative reactions. A lot of people's perceptions are not favourable even among South Africans. For me, Afrikaans is about communication and the chance to learn a new language and a different way to express myself and think. I stand against those taking ideological viewpoints.
Take lessons on italki.com
I recently bought some lessons on italki.com because it is a lot easier to buy one-hour lessons for about $10 (it is priced in dollars) than to find classes or even speakers outside South Africa. There are some great tutors online and you can take formal structured lessons or informal conversation lessons. I'm taking the latter and I really enjoy talking and asking questions to improve my knowledge. It's the best resource available and I just need to book some more lessons.